The Big Idea: John Schwartz
Posted on April 5, 2018 Posted by John Scalzi 10 Comments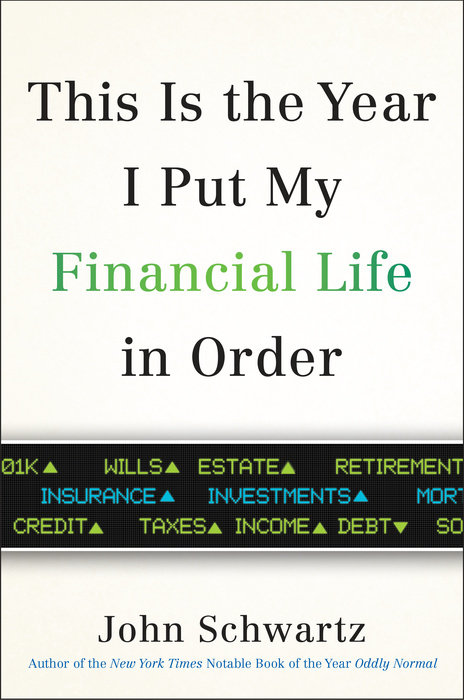 Anyone who knows me knows that I spend I lot of time urging people — particularly writers — to get their financial houses in order. John Schwartz is a writer — a reporter in fact — and the way he got motivated to get his financial ducks in a row was to give himself a writing assignment, which became the book This Is the Year I Put My Financial Life in Order. Hey, whatever works!
JOHN SCHWARTZ:
In writing This Is the Year I Put my Financial Life in Order, I was working through a puzzle: Most of the people who could benefit from a book on personal finance would never read one. I knew this because I was one of those people.
Money scares me. I don't mean I'm scared of not having money—that's a fear most people have. And I don't hate money, or think it's inherently dirty. It's not even that I can't understand money. As a newspaper reporter for the New York Times, I've tackled plenty of difficult topics, including space travel, climate change and the hurricane protection for New Orleans. I write about investing for the NYT business section in a quarterly humor column. Give me an assignment and I'll learn what I need to learn to get the job done.
And I'm not particularly cowardly: I've flown (briefly) in a jetpack, gone cattle herding from a helicopter and stood inside a suit of armor while a Tesla coil zapped me with a million volts of electricity.
So it's none of that. No, it's just that I've always hated thinking about my own money. I got a 401(k) early on, but I could barely bring myself to open the envelopes to see whether the accounts had grown or shrunk. I was already in my mid fifties, but had put off thinking about whether I had enough money to support me and my wife in retirement. I didn't know whether I had enough insurance. I didn't even have a will.
It was time. It was past time.
So I forced myself to confront these demons the best way I know how: I wrangled myself an assignment. I got paid to figure out where I stand for retirement. I dove in, did the research and wrote the story, confessing my qualms in the process.
If my inbox was to be believed, there are many, many people out there who share my sluggish fretfulness, who are a little money phobic. Procrastinators. The financially squeamish. A colleague called it "frighteningly familiar."
And then there was Brian, a neighbor, a great guy in his 30s with a couple of kids. He told me his father sent him a three-by-five index card, his usual epistolary medium, lauding the piece. "Take it to heart," he wrote. "Before you know it, you are looking at your ability to keep paying for things during the 2nd half of your life." Brian told me in an email, "I have to say, this is one of the longer written notes I have received from my father in the past several years, or maybe ever."
There are plenty of personal finance books out there. But if you've ever checked the shelf, you know that most of them suck. They overpromise—you'll get rich!–when what most of us want is security. They claim that they hold arcane secrets, when the principles of providing for retirement are actually pretty straightforward. And they bark orders like some kind of drill instructor, when what we really want is a well-informed friend.
That led me to pitch the book, another assignment to get me to do what I hadn't been able to do on my own. I spent a year (okay, a little more than a year) figuring out my finances, learning what I should have known about investing and taking care of my unfinished business. And yes, I finally got that will.
This Is the Year I Put my Financial Life in Order goes on sale this week. I have tried to write about the process of learning all of this stuff in a way that readers can follow my example and begin to get their financial lives in order, too. And to ease their fretting. It tells of my own financial misadventures as well as our scarier moments, like buying a New York apartment at the top of the market and then being unable to sell it, and the tenant who refused to leave. Yeah, that guy almost put us into bankruptcy. There's the offer from my old super to kill the tenant. (Hey, it's New York.)  And there's the bankruptcy lawyer who Jeanne still calls "the angel," who talked me out of filing for bankruptcy. For a while, times were so tight that my regular lunch in the cafeteria at work was French fries with gravy, a filling meal that cost me less than two bucks.
We're more comfortable now. And we've learned some lessons along the way. Maybe readers will learn from our mistakes. I hope, at least, they'll be entertained by them. After all, who doesn't enjoy the sweet tang of schadenfreude?
—-
This Is the Year I Put My Financial Life in Order: Amazon|Barnes & Noble|Indiebound|Powell's
Read an excerpt. See the author's recent bylines. Follow him on Twitter.